Our private health heavens are our bathrooms. If styled right, it can be a source of serenity and comfort after a hard day at work, a genuine oasis for self-relaxation. However, a good bathroom design is all about balancing practicality with aesthetics. In most bathrooms, getting ready for the day while having enough space to walk around might be difficult. When it comes to saving space, your bathtub and shower area are sometimes overlooked, and using shower curtain sets with rugs may save considerable room.
Continue reading to learn more about how shower curtain sets with rugs can change your restroom space. We'll also provide you some pointers to assist you find the finest decor ideas for your bathroom.
Choosing a rug for your bathroom may appear to be a simple thought, but the one you choose may really play a significant part in creating the overall design of your restroom, also a curtain coming with the rug will ensure the balance and even enhance your usual daily routine. Therefore, when buying for a shower curtain sets with rugs, it's crucial to examine the color, size, material, durability and any other features that the it provides, so there are a lot of factors to consider.
The Coordination Of The Shower Curtain Sets With Rugs
It's not necessary for your shower curtain sets with rugs to match in terms of color. It's ideal if they both belong to the same color family, but they can also be complimentary hues or have a similar color scheme. You may also decide on shower curtain sets with rugs based on similar textures or designs.
To move on, we'll share some real examples of curtain/rug pairs and some other factors to consider!
Select Complementary Hues And Adhere To The Same Color Family
Two colours that are opposite one another on the color wheel are said to be complementary colors.
Despite the lack of color matching, the aforementioned tones naturally complement one another. See for yourself by adding these rainbow-colored accents into your bathroom area, it will light up your space pretty much. This color combine also work well with the livingroom and other area of your house.
Tip: Your romantically themed bathroom will look great with complementary hues. Examples of complimentary hues are purple and red, green and yellow, and green and red.
Keep Colors Neutral And Concentrate On Textures
With neutrals color, it's difficult to go wrong. No matter which space you're designing, the colors white, brown, black, beige, and gray always go nicely together. It'll give any space in your bathroom a classic look. If you feel that the neutral colors seem a one touch dimensional, add pops of color with other decor. For instance, you may hang a curtain and rug with a vibrant work of art or a striking, eye-catching graphic design.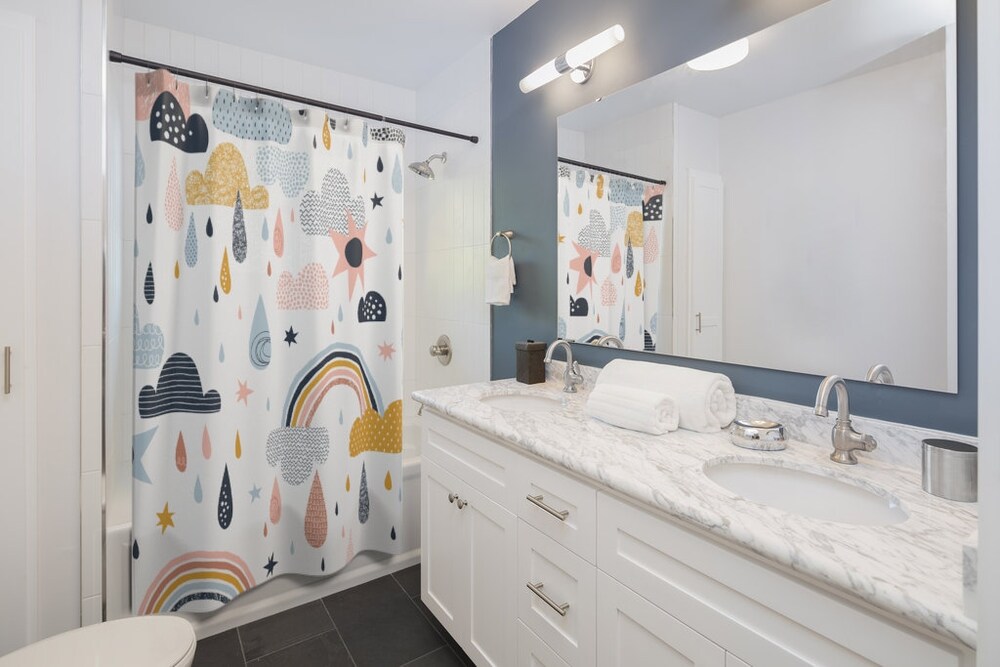 As we mentioned before, you don't have to only use color pick to make your curtains and carpets have a similar appearance. Another thing you may play with is textures.
For example: A shaggy rug is your best option if you chose the shaggy appearance for your curtains in your bathroom.
Patterns Matching
In addition to color and texture, pattern matching is a fantastic concept. Like with everything else, it's not necessary for the rug and curtains to have exactly the same design. But while a perfect match is not necessary, it is advised to stay within the same pattern family. Even a vast bathroom could becomes cohesive as a result of this.
Also, If you're doing your decorations to liven up your bathroom, the curtain and rug should be matching for the background. For example, it would draw too much attention if the restroom curtain had a crimson pattern on one side and a green one on the other. Then the curtains take center stage, overshadowing the rest of your décor selections.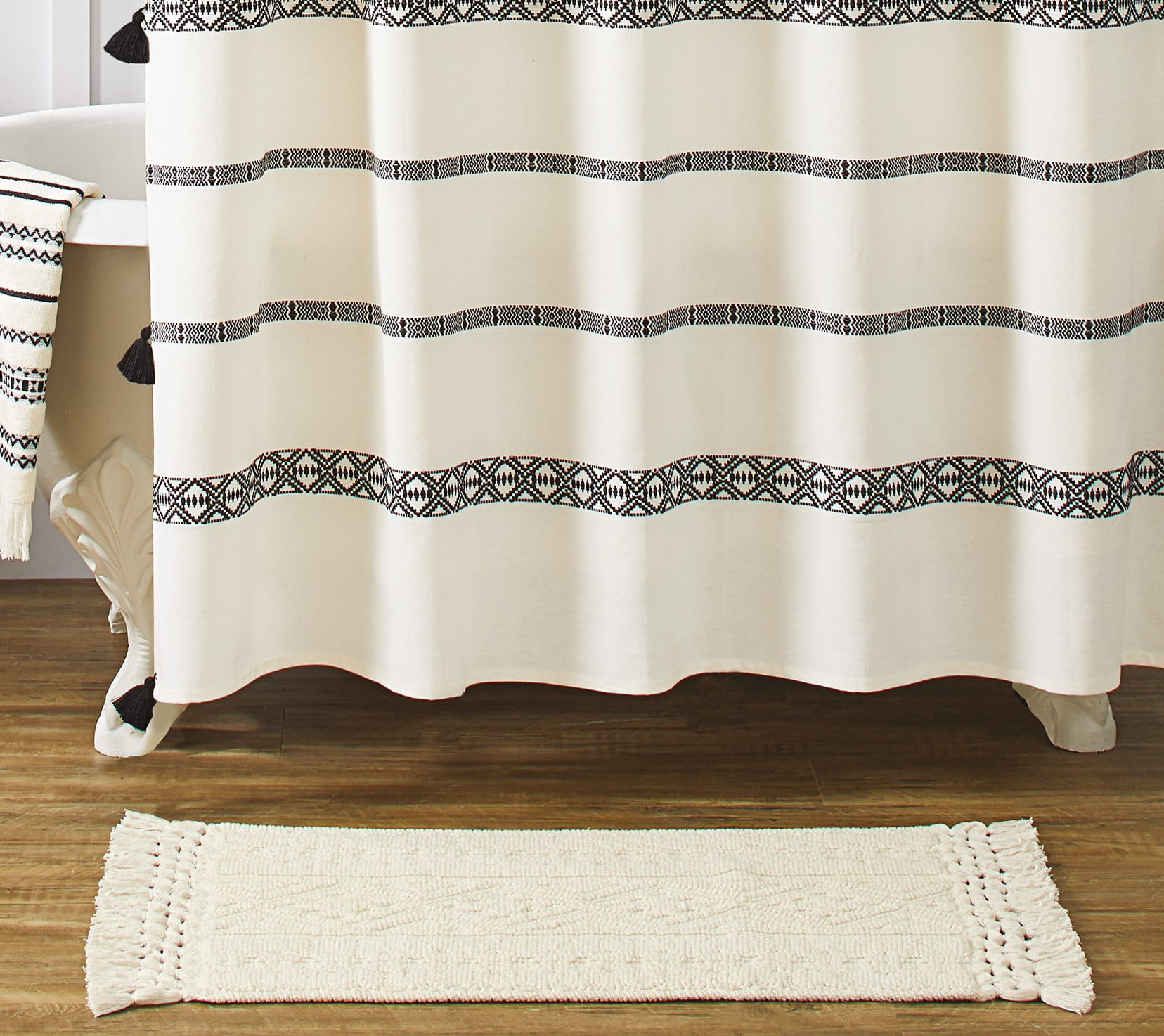 Great Examples Of Shower Curtain Sets With Rugs
Beige Shower Curtain Sets With Rugs
Beige or camel color is a closer pair in terms of color and texture. The sandy-colored rug in the middle of the bathroom and these beige drapes give the space a vintage feel. Also, consider decorating the remainder of the bathroom space with this attractive color by using beige bathroom furnishings. Bathrooms that seem natural do well with beige. For instance, the decorator should pair the thick, deeper beige curtain with a plush, beige rug that are both in beige tone color.
Basic White-On-White Shower Curtain Sets With Rugs
This pair is the first example uses neutral hues to a fantastic degree. Just imagine everything is paired perfectly by a white curtain with a carpet that's black with white patterned detailing. This set color helps to create a feeling of cohesion by neutralizing the room's other colors.
Note: Just try to go completely white if you're still a little hesitant about using your rug to highlight your curtains. It brings so much brightness to a bathroom, but make sure you clean often, especially cleaning your rugs, to keep the pure white from being dingy.
The decor ideas mentioned above are all you need if you want to use shower curtain sets with rugs to beautify your bathroom. This decor set may be added to any type of bathroom area, and it will assist to create a warm and cozy atmosphere for your oasis of self-care.
Suggested For You >> Find the best gift for Mom
---
Hope this article will be helpful for you. Thanks for reading, and don't forget to check out other Geembi collections and pick your trendy products.